[sg_popup id=89]
The Uncharted porn parody – XXX Chartered
I don't think it takes a genius to work out that XXX Charted is an adults-only version of the popular Naughty Dog franchise series Uncharted – those of you who enjoy the PlayStation title but want something that's a little more blue in nature, this might be something for you to check out! The tour with its sample scenes is certainly good, but I want to know what's actually going on when you sign up to XXX Charted and get inside. Think you'd like to find out additional details because you're interested in signing up? Say no more, fam. Mr. Mamba about to get out his Mastercard to put this place to the test. Let's dive in and see what XXX Charted is all about.
A first little look inside
My initial impression of the member's area here at Gamer Access Hub is a positive one: not only do you get XXX Charted, but a few other parody titles too like Cock of Duty, Red Bed Seductions and The Fister: Wild Cunt. They've even got 3 active releases in development and a few non-premium options such as Pussycat Woman and Wheel Of Fortune. There are some other extras here but right now, I want to get inside the thing we came here for to see – after all, our cash money is being spent on access to XXX Charted, so if that's not a good adult game then what's the point of grabbing a membership?
When you select the game, you'll have a choice between playing the desktop, iOS or Android versions: because I'm on my PC, I'm going for desktop. I have to say that from the loading screen, I'm really impressed with the visual quality of the content: I don't think I've seen graphics this good in a porn game before. Just take a look at the screenshot I grabbed – the shadows look fantastic, the lighting is real good and the girls' bodies are absolute perfection. I actually reviewed The Fister: Wild Cunt from the same production studio a few days ago and the exact same thing was the case – these guys know how to make a great fantasy rendering, that's for sure.
Story mode explained
If you just want to watch on and not get involved in the gaming at all, XXX Charted has a 'Story Mode' option that you can select if you're only looking to watch the rendered 3D action with no requirement to progress or control the game. This is what I'd describe as a 'hands free' option, where the only thing you need to focus on is jerking off while watching the smut unfold. There's a voiceover explaining the plot to you and scenes are extra-long: it's quite impressive just how detailed the information is that's given to you and the sex is pretty much consistent throughout. This 'game' can come across more like a story telling adventure from time to time: you have very little impact on what actually results.
The interactive elements
So you may remember on the home screen that you had the choice between 'story mode' and 'game mode', the second is essentially a small barrier between you and a scene control panel that gives you complete authority over the sex that results. All you have to do is remember a sequence (it's a puzzle of sorts) and if you manage to get it right, you'll have the option to pick between Klowee and Nahdeen for the hardcore sex experience that you're about to lord over. You actually have a few 'position' options after selecting a character, including doggy style, missionary and solo. From there, you can pick a POV cam, booby cam, director cut or climax cinematic. XXX Charted has incredible graphics and honestly, that to me is what sells this place more than anything else: it looks so polished. My only complaint is that there's just not enough game here: I want to feel like I'm getting rewarded for doing well.
Other extras
So alongside the additional porn games, your access to XXX Charted comes with free porn videos – quite a few in fact. By my count, XXX Charted has 50,000+ exclusive uploads here, starring sexy pornstars like Riley Reid, Piper Perri, Asa Akira and Adriana Chechik – they're completely free to watch and many stream in high definition. This is all a part of the Gamer Access Hub – the name of the actual network you'll be logging into for access to your porn games and free X-rated videos. You've also got a segment here devoted to different pornstars and an image archive if you're looking for sexy photographs: I think it's fair to say that it's quite a collection of content and most people will be more than happy with their experience inside!
Some final thoughts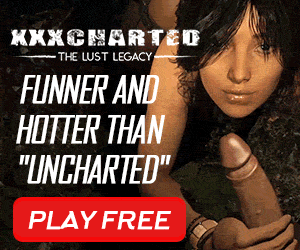 I played some of the other games here on Gamer Access Hub and they were all quite good – there's a mixture of premium titles (which are more stories than anything else) and games with a lot more interaction: I don't think many will be disappointed with what they see inside here, since its combining the best of both worlds depending on what your porn game preferences are. I have to praise the graphics for XXX Charted because it is, without a doubt, the best-looking adult game I've come across to date – these are some high-tier renderings that I'm sure everyone will love. Porn games often suffer from poor quality content but that's simply not the case here or the case with the free premium games you get when signing up to Gamer Access Hub.
Bottom line: check out the tour and if you like the art style and HD 3D rendered goodness, grab an account. XXX Charted delivers quite the video game porn parody you don't want to miss!
Review Pros
Fantastic artwork
Bonus games
Free porn videos
Review Cons
Not much gameplay
Some Ads