Short Look on NarcosXXX
Hey there, porn game addict. You've probably come to this review because you're looking for an awesome new video game to play that's adult-focused, right? Well luckily for you, Mr. Mamba has come across a truly epic title that he thinks you're going to love. It goes by the name of Narcos XXX and I'm the first person on the Internet to actually write a review on this fresh game. I'm really excited to get down into things and tell you what I found inside – please continue on and I'll give you all the details you need to know about Narcos XXX and what it has to offer.
A quick bonus note
Before getting into the review, I do want to mention that your membership to the Narcos XXX website comes with free bonus access to a bunch of other stuff: I'll go over this later in the review since naturally, I'm going to focus on the game more than anything else. I actually think that even if Narcos XXX wasn't all that enjoyable, it'd still be a great place to join because of all the bonuses. More on that in the future, though. First, let's take a look at Narcos XXX.
Let the games begin
The first thing I noticed when loading up Narcos XXX for the first time is that this game has been developed on the Unity engine. It utilizes the WebGL API to bring you gaming action without the need for a plugin – this basically means that you're not going to have to download anything that could be potentially nasty if you want to play. Unity is actually a really good engine too: it's been used in games such as Kerbal Space Program, Rust and even Hearthstone.
When it finishes processing, you'll have the choice between hitting 'instructions' and 'start game'. Narcos XXX uses a standard WASD movement keybind setup with left click being fire, right click being kick door, grenade being G and reload being R – not all that complicated! Once you've familiarized yourself with the controls, smash the 'start game' button and off you go.
The plot thickens
The story begins with you on a fancy boat, pressed up against a chick that's bending over. Sadly, military folk start storming your compound and soon enough, you're arrested alongside two naked studs with their huge cocks hanging out. Soon enough you find yourself behind bars with a gun in hand: it's time to escape out of this hellhole before it's too late! This is the part in the game where you actually take control – before now, it's all storyline. Think you've got what it takes to be Pablo Escobar and can make it out alive? Good luck friend, that task might be harder than you first thought!
Note: I came across a pretty nasty bug that locked the game up for me using Chrome on Windows – this issue was resolved by going into Opera instead, but I also tested Firefox and Safari: they functioned just fine. It's slightly annoying because I love chrome, but I guess you've got to make sacrifices if you want to play cutting edge porn games themed around drug cartels, right? I didn't try Edge but I'd be willing to bet that was fine too – Chrome probably will be too after they deploy the patch or whatever's required in order to fix this uncommon error.
Nice gameplay bro
Okay, so now the gameplay – it's surprisingly well optimized. Narcos XXX uses an isometric shooter approach to its rendering: a little hard to get used to, but it reminds me of playing Resident Evil on PlayStation way back in the day. You can elect to take the game full screen or keep it windowed: I think taking this puppy to the max is the right way to go about it. Anyway, your first task is to take out the guards and move around the prison following the blue arrows – you can use the barrels to assist you in murdering the correctional officers if you so desire. I was actually surprised at just how good the gameplay was – clearly a lot of time and effort has gone into this game. Who new anyone cared about producing great porn games?
You'll eventually start moving from room to room, taking out those who stand in your path. A key will become available to you a few minutes in – this is when you'll want to start to look toward breaking out and finding salvation. I think that's probably enough of a walkthrough for now: after that it's pretty easy to follow the action and understand what's going on.
The good stuff about Narcos XXX
When you finally get done shooting and saving the girl, things start to turn sexual. Narcos XXX does a good job of combining gameplay with erotic rewards: it's not an easy title to play by any stretch of the imagination, but you're given a treat for doing a good job. When it does come to fucking, all you have to do is move your mouse left and right – it's pretty simple actually, as this controls the speed at which you fuck or get your dick sucked. There are several scenes to go through and they're all quite interesting (as well as prison themed). I'm not sure if I relate all that well to Pablo, but I can suspend my disbelief for long enough to feel like I'm actually involved in the action myself.
I also like that this game is not easy – you're given a task and you're not spoon fed the solution. The aiming seems fairly decent given the style of game as well, plus your health bar is something you'll have to manage in certain situations by making intelligent choices. My frames never dropped and the graphics are acceptable: it's not Counter Strike by any stretch, but enough to feel like a modern title. I think the girl you fuck is pretty damn sexy too, plus she's got a personality to boot that makes her come across like a complete whore. Mr. Mamba likes that – he likes that a lot!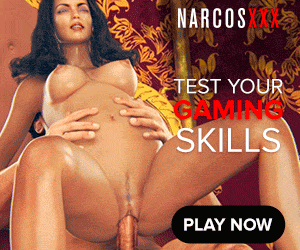 The bad stuff about Narcos XXX
So firstly, I had some issues with my browser messing up and that's never a good thing – you've also got to play this game with two hands to begin with, so it's not an instant 'I want to cum' title like dating sims are. I'm also disappointed that the website doesn't run via HTTPS – even when you're submitting your username as password. This is terrible network security, so I highly advise you not to use any passwords that you might for other services, since they're going to be sent to the server in plain text.
I also disliked the music for the shooting phase of the game: it repeats on a 60 second loop or something and just doesn't fit with the theme all that much. It actually sounds like Ol' Dirty Bastard's Shimmy Shimmy Ya – wonder if that's intentional. The last thing I'd like to mention as being less than perfect is that you seem to have an unlimited supply of hand grenades – that doesn't seem all that reasonable, since you're in a prison and you have a limited number of handheld explosives you can put into your pockets. Maybe 2-3 grenades I could accept (with additional caches found throughout the level), but it seems too easy just to spam them like I used to do when playing Strike at Karkand in BF2.
Those Brucie bonuses
As mentioned at the start, you get free access to some extra things here – including 200+ exclusive games in various niches. The biggest draw card is the hentai category: if you're a fan of dating simulations and the like, definitely go here to get a Japanese gaming experience like no other. Alongside interactive elements, Narcos XXX also comes with free bonus access to over 1,000 pornographic DVDs, including titles such as Lesbian Couch Crashers, Interracial Creampie, Anal Virgins and Big Phat Wet Natural Titties. I sampled 5 DVDs and all come with HD streaming options – sadly, no direct download options.
You'll also have the chance to check out some bonus sites: Premium Porn HD and XXX HD Vault. Together they've got several hundred hours' worth of high definition adult material – not bad at all. Across all sites you get access to, pornstars featured include the likes of Megan Rain, Gianan Lynn, Jessi Lopez and Piper Perri. It's all good stuff and I'm surprised that for a site so focused on adult games, they've also got a huge collection of porn for you to enjoy.
Review Pros
Good gameplay
Free bonus sites
Free porn games
Review Cons
Not HTTPS
Some chrome bugs
My final comments
Mr. Mamba enjoyed Narcos XXX, but he also enjoyed the bonus access you get to lots of other destinations when you create an account for the game. This is a package deal and I think if you consider all of the elements together, it makes sense to grab an account here and at least try out what they've got to offer. It's not going to be the next Fortnite, but Narcos XXX is good gaming nonetheless – plus you get to fuck Latina bitches through Pablo's dick, which is pretty fucking awesome if you ask me.